The Island: Castaway
An ocean liner was caught in a storm and wrecked in the ocean. A group of people managed to escape on life boats to the nearest tropical island. Immediately after landing, mysterious things began to happen on the island! Survive the perils of the island as you find food, collect fruit, and grow vegetables in The Island: Castaway, a fun and exciting Strategy game.
Unique gameplay
Exciting adventure
Can you survive a shipwreck?
Game System Requirements:
OS:

Windows XP/Vista/7/8

CPU:

1.0 GHz

RAM:

1024 MB

DirectX:

8.0

Hard Drive:

517 MB
Game Manager System Requirements:
Browser:

Internet Explorer 7 or later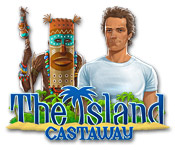 NEW299
The Big Fish Guarantee:
Quality tested and virus free.
No ads, no adware, no spyware.

Reviews at a Glance

The Island: Castaway
0
out of
5 (
0
Reviews
Review
)
Customer Reviews
The Island: Castaway
32
32
Awesome adventure game
This was fun!!! Can't wait for the next one.
December 10, 2011
awesome game
excellent game, fun to play and replay Highly recommend the game Story keeps you involved and makes you want to play it again and again
July 6, 2012
My All Time Favorite Game Ever!!!! So Addictive. WOW!!!
I LOVED THIS GAME. The first game I ever finished. I could not stop playing. It was like a great book. I Loved the interaction with the characters and all the tasks you got to do. Very realistic. I played it through twice. It was different from TM and HOG games and you became part of the story and game. Fun, Fun and for awhile you were swept away from all your worries as you worked to save your friends and yourself. I Highly recommend. Please make more like this one. Thank you.
June 1, 2012
Not quite a village sim, not quite an adventure game, just lots of fun!
Oddly enough, the game I'd compare this to in terms of gameplay style is Grand Theft Auto 3 (onwards). You have a main quest/storyline to follow, but you are free to explore and do other things on the side like go hunting or fishing. You don't have any official side quests, though. The premise is that you and a few other people are the survivors of a shipwreck who have washed up on a tropical island. Luckily, there are plenty of fruit trees around and you can gather fruit for food. Gathering food and cooking it and collecting recipes makes up a significant part of the game, which I guess makes sense as survival is the #1 priority. You can also pick up branches, timber and shells as you walk around. It's strangely fun to gather stuff, even before you know what it's going to be used for. Everything "respawns" quickly, so if you walk over to another screen, then come back, you'll find new fruit, shells, etc. The story unfolds through exploration of the island and talking to various characters in the game. There are a LOT of conversations and there are voice overs for ALL of them. Also, while some of the dialogue can be pretty ridiculous, and sometimes the reactions of the characters isn't quite believable, overall they do a good job of conveying the mystery of the island as well as the individual personalities of each character. I was always interested and motivated to learn more. You receive a series of tasks to advance the story, which are typically simple things like talking to someone, or gathering specific items. I was pretty happy to do them, although they do involve quite a bit of running around the island. Nothing is difficult, and the closest thing to a minigame is fishing, which just involves waiting and clicking at the right time. It's repetitive, but not in an annoying way (to me). Gameplay remains the same pretty much throughout, so if you like the demo, you'll like the game--I did! :)
May 30, 2012
Best of its kind
I stayed up all night to finish this game after I bought it one afternoon because I was hooked. I like games like this and play them frequently. IMHO, this game's animations were really well done, the story line was interesting, the characters were believable without being too over-the-top, and the storyline moved along at just the right speed. The areas where physics weren't very realistic (i.e. the speed the plants grew) only made the game more enjoyable. The plot, the puzzles, and the game mechanics flowed together harmoniously. I really dislike games where you have to grab the ground and move it to get around; it is clumsy and interrupts the game play with concentration on moving around. I got to where I didn't even notice the techniques for moving, I just MOVED. If you like this genre of game, you WILL enjoy this one, and the sequel (prequel?) is even better. ~ Qumquat
May 6, 2012
One of my Favorites!
Super duper duper fun, thanks for making another one!
March 15, 2012
Wandering Willows meets Lost
This game will entertain for many days. It's probably the best value game I own so far. I haven't finished it yet, I'm only about halfway through but I already bought TIC2! This game is like Wandering Willows, minus the cute factor, a bit more 'adult' and much more challenging. The characters look fairly realistic. You have missions to complete for various people on the island, things to collect on the way, recipes to follow etc. but you have to do all the work yourself #no cute pet to do it for you#. Also, look out for the boars and snakes as they can inflict damage. Hint - keep a ready supply of ingredients for the repelling potion in your inventory and cook food as soon as you have the necessary ingredients as this will free up your inventory for other things and also nourishes your character more efficiently. You can hold 20 of each in the beginning #before it spills over into a second space#, 50 of each after the first upgrade and 100 of each after the final upgrade, so use your inventory space wisely in the beginning. As soon as you are able to, sell all your surplus stock to the shop for extra funds to buy upgrades faster. It would have been fun to be able to customise your character like in Wandering Willows, but apart from that, I can't find anything negative about this game.
March 2, 2012
Loved it.
My 7 yr old and I played this together. We both enjoyed it thoroughly!
February 17, 2012
Fun, fun, fun
This game is similar to Wandering Willows. You have tasks to complete and new areas to explore. This game is a nice break from the usual games found on Big Fish.
February 12, 2012
great game!
This is an all around great game that gives you a lot of variety in game play. In my opinion, one of the best games on this site.
January 5, 2012