Sinister City
Help John explore a Sinister City and save his bride, Nina, from vicious vampires! Travel to the astral plane and save your love from the most powerful and evil vampire of them all, Count Orlak. Solve perplexing puzzles and explore ancient castle corridors in this creepy Adventure game. Meet a colorful cast of characters who will all help John on his incredible journey.
Spooky atmosphere
Intense action
Explore the Sinister City!
Game System Requirements:
OS:

Windows XP/Vista/7/8

CPU:

1.0 GHz

RAM:

256 MB

DirectX:

8.0

Hard Drive:

108 MB
Game Manager System Requirements:
Browser:

Internet Explorer 7 or later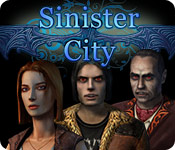 NEW299
The Big Fish Guarantee:
Quality tested and virus free.
No ads, no adware, no spyware.

Reviews at a Glance

Sinister City
0
out of
5 (
0
Reviews
Review
)
Customer Reviews
Not the usual bloodsuckers #2 LOL
Like Vampireville, I've played this game several times last year. Once again, my favorites - humor, characters who move and speak. Scenes, HOs and puzzles are great from what I can actually remember. Would I play it again? Definately!
May 13, 2012
FUN
this is a great Adventure game. I love just good old fashioned adventure games. HO games are ok, but Adventure is the best. This game was so much fun to play. I highly recommend this game if you like adventure genre.
December 12, 2013
Humorous Scattered Object Game
It is a very simple game where you have to find mostly the same type of objects in a scene to get to an new dialogue or scene. It is not your typical "rescue your girlfriend from the fiendish vampire" story - but a rather silly take on the current sad state of the vampire genre. I thought the references and hidden complaints were quite intelligent - but if you are not a genre buff or share the same kind of weird humour you might just find this game and story incredibly silly and dumb. The characters you encounter are a combination of walking stereotypes - so beware if you don't like that sort of humour. The worst mistake you can make when buying this game is to expect something scary or sinister: After all this games features a vampiric version of the teletubbies which is something some might find very terrifiying. I really had fun playing this game, despite its short comings and the ending (during the credits) was incredibly funny and rewarding for all the tedious searching for objects.
May 28, 2012
Tongue-in-cheek humor makes this "adventure lite" game thoroughly enjoyable!
Sinister City Developed by Jet Dogs Games Review based on full game IN THE BEGINNING... Your bride Nina has been kidnapped by the most vicious vampire in Sinister City, one Count Orlok. As a mere mortal, you'll need your wits to survive this surreal misadventure, which pokes fun at the ridiculous level to which the vampire genre has been taken of late. PLAY THE GAME... Sinister City is a scattered object third person puzzle adventure?er?a SCOPA, if you will. The SCO part of it generally means you'll be finding several of one type of object scattered among a few areas where you zoom in from the main area. These objects are used to repair items, satisfy NPC requests, advance the plot, etc. There are also plenty of puzzles?none difficult?including a jigsaw, pipe connection, memorize and choose the correct pattern, move tokens to match the background, etc. This is a perfect game for beginners to the adventure genre. SIGHTSEEING? Graphics are reminiscent of old-school adventure games?rendered 3D with superimposed textures. Animation includes posers and is fairly well done. SOUND WAVES? The music is well in the background and very appropriate to the game theme. Voiceovers are quite professional and add to the humor of the game. TOOLBOX? There is a map, but you don't access it. Instead, you're taken to it when it's time to move to a different location (sort of Indiana Jones style). The hint button tells you exactly what to do next (and gives you directions for the puzzles). THE LAST WORD? While Sinister City is quite short, less than 2 hours, I rather enjoyed it for the humor and because I love adventure games. I definitely recommend it as a DD or if you have a PCC. Be sure to watch the credits!
December 28, 2013
Low visual quality but funny story
Games are easy but the story is surprisingly interesting with funny accents. More should be like this comic games. Well done!
November 12, 2014
Ah well...the credits were entertaining
This is not "scary" in any sense of the word and I don't believe it was meant to be. This would fall under the catagory of RPG/HOG lite. Extremely lite. Loaded and ran fine for me with no problems. Option of both challenge and basic mode. I played challenge level with no sparkles but there are sparkles/clues in the basic level. 3rd person perspective. Very linear. Point A to point B in a given area depending on the task. Mini games, while playing into the story line, are simple. Didn't pay any attention to the music so it must be unobtrusive. Graphics are clear for the most part. There is a small amount of interaction as you move some things to find others and select people to talk to. Most objects to find are multiple identical items. No penalty for clicking. If you click on a location, i.e. a door, the character auto goes there. Story line is suppose to be humorous. To some it may be. Very short game. For me, 1.5 hours and that was not rushing or skipping. Hmm..well I bought it thinking the humor was interesting in the demo portion. It never improved. Cute concept that never really fleshed out. And the over all game was extremly easy. End result for me was boredom. Although I did get a smile at the action during the closing credits. This would be a great game for someone who was just discovering this genre or was on the young side. Probably on the whole wished I'd saved the credit.
November 11, 2011
Not for everybody's taste...
but I quite like it. I played nearly to the end of the 60 minute demo and thought I leave a few minutes outstanding as flag that I might it. The game is a bit surreal, somewhat in the range of Green Moon and there were moments when I had to laugh. E.g. when John as the main character describes the crime scene from which his girlfriend was kidnapped and said with the mos serious of faces: "Bats droppings were found" :-). The music, which is not intrusive, adds to the surreal feeling of the game and I really think that this one is a little gem. So if you like Green Moon give this one a go.
April 23, 2012
Terrible Story line and easy game play.
This game is just terrible. The developers had all the right ideas but it just came together wrong. To many things going on?? The beginning doesn't match the ending. The HO games were easy and the graphics were tacky. I appreciate that there is an ending because most games skimp on this attribute.
March 9, 2012
fun in its simplicity
game was fun and some things were well written my kids enjoyed the story and giggled during the end credits. some things were in plain site while others were well hidden. bought it in a triple game pack so it is not really worth buying unless other games come with it. the characters were interesting and the tasks were point blank and easy to figure out. All in all a fun family game for younger generations.
December 20, 2011
Vampires in Sinister City??? Say it Ain't So!
This is definitely the strangest game I've ever played. And, yet, it DID have some ...... intriguing parts. lol Apparently, your character, a young man, has gone to get a hotel room outside Sinister City, where he has heard that his bride has been taken. The hotel clerk, before offering him even a room for the night, has him doing all sorts of errands, quests, what-have-you. Including, if you can really believe it, finding parts for the hypnosis machine that will take him to another astral realm where he will find his true love. HAH! Strangely enough, the young man is NOT surprised one ... little .... bit that he was just told the oldest and most powerful VAMPIRE in Sinister City's daughter is your true love. OR that the hotel clerk is the oldest living VAMPIRE HUNTER! Where was all THIS info in the game description. Graphics. How can I explain. For the GAME itself, graphics were ok. Music was a bit ..... strange and twangy. Voice overs did NOT match the lip syncing at all which made it very disconcerting to watch. No real sound effects. There are 2 levels of difficulty - casual and advanced. Everything you have in "casual" is removed in "advanced". But, if the "casual" I played was any indication, THAT mode of difficulty will be challenge enough even for the most experienced player. There was mention of a map, but I never did get even close to getting it. There was just soooooo much to do beforehand. Find me this, do that for me, go here, go there. It NEVER ended and it generally didn't add anything to the game play. No journal/diary. The hint button took forever and 10 months of Sundays to recharge. Which isn't so good since you have to use it quite a bit as the game has no sense of direction ..... at all. So, either you walk around a LOT or you just sit and twiddle your thumbs, play with the dog, take a nap, have a cup of coffee or take a bathroom break while reading the current best seller. By the time you've finished ALL THAT - the hint button SHOULD be recharged. Needless to say, there is absolutely NO direction here. No sparkles unless you happen to click on where they are supposed to be, such as a closet. If your cursor turns red, GO THERE! It's a HOG area! I figured that out myself - ahem ahem. HOGs - Once you find them (they do not sparkle or yell "boo") you have to click on EVERYTHING because the items you really need and are looking for (pieces of a mirror or a clock that you have to repair, etc.) are also hidden in the various HOGs and are never quite in sight. As are some of the HOG items you are looking for NOT in plain sight - but they do not appear asdifferent colored words. And, you don't get to really LOOK into the closet, etc. for a "zoom" look to find these things. You kind of are on the outside looking in from ... afar so things can be a tad .... on the tiny side. So, basically, point and click at ...... EVERYTHING! And, the main items you are looking for (pieces of a mirror, etc.) are scattered in several HOG areas, not just in one. You need a map. You need a guide. You need ... oh forget it ..... the hotel clerk would probably send you out to look for it anyway. The mini games are fun and relatively easy. HOGs outweigh the mini game ratio by a LOT. Oh, yes, there are NO instructions for the mini games, but there IS a "skip" button. Go figure. I love a game that has no hand-holding and very few instructions. I like the challenge and have purchased a game before that had a major glitch ---- there were no instructions or clues or sparkles. I LOVED IT! This game, however, being so different from today's HOGs, needs "some" instruction. Also, less hokeyness and more intelligent conversation. This just isn't a purchase for me. Oh, don't get me wrong. It MIGHT have been ..... if not for that "hint" button recharge time. I will definitely recommend everyone I know try the demo. I want to hear what they did while waiting for the hint button to recharge. ENJOY!
November 28, 2014
The Apple logo is a trademark of Apple Computer, Inc.