King Arthur
Follow Arthur's rise from boy to king! Narrated by Merlin, King Arthur traces the well known tale of Arthur from the time that he was a boy, and happened to pull the enchanted sword out of the stone, to his years as the greatest king of all of England. Use magical runes as you battle the evil Morgana and Mordred, who attempt to usurp the throne of England, in this fun Hidden Object game!
Beautiful artwork
Original soundtrack
Follow Arthur's rise!
Unique hint system
Game System Requirements:
OS:

10.4

CPU:

1.6 GHz

RAM:

2048 MB

Hard Drive:

160 MB
Game Manager System Requirements:
Browser:

Safari 4.0 or later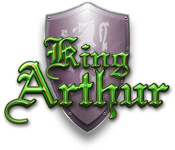 NEW299
The Big Fish Guarantee:
Quality tested and virus free.
No ads, no adware, no spyware.

Reviews at a Glance

King Arthur
0
out of
5 (
0
Reviews
Review
)
Customer Reviews
Meh
The artwork on this game is really good, however some of the HO are so small, you need a magnifying glass to find them. The puzzles are too easy. The story line is interesting, however the narrating by the wizard gets annoying because he speaks so slowly. This is a good game for the 10 and under set.
January 1, 2012
Short game
I've always loved the story of King Arthur. So, I was willing to play this game. Merlin is the tells the story of Arthur and helps throughout the game. The hidden objects were easy to locate. There is tons of hidden objects in this game. The puzzles were just way to simple to figure out. I prefer more of a challenge in the game. The hints are refilled by locating the rune stones. The storyline is the basically what every King Arthur fan knows. He was betrayed by his sister, Morgana. Still love the story! I would suggest this game to a first time player. Great introduction to a hidden object game.
August 7, 2013
This could have been a really good game. . .
I only played the demo, but played the full hour, hoping things would improve. There is a wonderful and lively succession of HOs, interspersed with some puzzles and a lot of story-telling by Merlin. Some of the puzzles are easy and fun, but many of the puzzles are too hard and not fun. The majority of the HOs are too difficult. The hint system is useless, so you are left to find all the items in each HO, having used all the hints and not finding all the items. Often I spent many minutes looking for that last item, then closing down the game, going away and coming back to find that one item. My usual practice when playing HOs is to use a hint for the last item in a scene (unless there's a reward for not doing so). So I won't be buying this one. If you're a player who can work with the hint system, this might be an OK game, but I couldn't, so I can't recommend it either.
February 10, 2013
Couldn't get into it
This game was just awful. Though the sound and the visuals were ok I just couldn't get into it. The scenes were extremely busy which somewhat adds to the difficulty and many of the items that needed to be found I didn't recognize the items and ones that I was sure met the description were the incorrect items. I would not recommend this game.
February 19, 2012
YAWN! Get a move on Merlin
The dialogue is sooooo slow you fall asleep or skip though it all. On the second hudden object scene you are asked to look for runes... there are a load that aren't the ones you are looking for but heck, lets make them click anyway! There was no hint button but most of the things you are looking for sparkle which is kind of pointless in a H-O-G, how hidden is a big bit of sparkling stuff? I wouldn't recommend this to anyone unless you have trouble sleeping.
March 30, 2012
The Cure of the Insomnia!!!
Merlin speaks so much and so slowly ... I almost fell asleep! Almost only HOS, and the images are so tiny ... is almost impossible to see, even more in notebook. The mini games do not bring anything new, and they are easy and silly. Very Boring Game
January 13, 2012
king arthur?s online vision test
how did young wart grow up to become Arthur, the most famous king of Britain? this hidden object game promises to tell you about the legend, including Arthur?s early years, how he pulled the sword from the stone, his long reign, his conflicts with the evil witch, Morgana, and with the appropriately named Mordred, who tried to steal the throne from Arthur at the end of his life. graphics (and complaints): those objects that are big enough to be seen are lovely. the first hidden objects scene of the game (merlin?s chambers) is one that you search twice, but for different items each time. why didn?t the developers combine these two searches into one? fortunately there is no click penalty since you are not provided with a hint button so completing the scene will keep you frustrated (especially trying to find the lizard). speaking of the hint button, after you leave merlin?s chambers, you FINALLY do get a hint button, although it is quite different from what you are familiar with. in this case, the developers give you FOUR different hint buttons, each of which does different things, and each of which is recharged by finding and clicking on ancient runes. why isn?t one hint button isn?t good enough? why do we need FOUR variations on this theme when they all give the same result in the end? anywho, i decided that the developers were just being annoyingly clever by overcompensating for the lack of a hint button at the beginning of the game. i was also annoyed by the sword scene since there were many many dozens of swords to look at, and roughly one dozen of them (one-third or so) are meant for you to find, but the differences between each sword is very minor and difficult to spot because, of course, the swords are all so tiny. further, if you click on an object before it pops up in your item list, nothing happens, so you may end up clicking on the same object three or four times during your search. music and voiceovers: the music is appropriate. Merlin?s voice makes me think of a grandfather who is falling asleep whilst telling a bedtime story to his grandkids. my interaction: one hour demo. absolutely NO plans to purchase this game. i am very passionate about the King Arthur legend and have read everything i can get my hands on about it, so i was quite pleased to run across this game. but my happiness was short-lived because i was very disappointed with this game. further, i suspect this game is targeted to kids, but the hidden objects are so tiny (or so well hidden in some cases), that even kids may end up needing eyeglasses if they spend too much time with this game.
June 6, 2012
King Arther game
Totally dislike this, no hints, no change resolutions. Tiny pictures to pick up mostly dark on a dark background. It is a game I would not recommend it is not for me, if you want to be driven mad this game will do it.
January 29, 2014
Zzzzzzzzzzzzzzzzzzzzzzzz
I adore the King Arthur story, I do. But if any game could ever make me hate it, this would be the one. Such great hopes for this one from the hype, none of which was realized. How do I loathe thee? Let me count the ways. 1) Slow HOGs with no click penalty and badly designed hints to frustrate one half to death. 2) Fuzzy scenes with tiny objects, making them next to impossible to find. 3) A boorish Merlin who speaks so slowly and in such a repetitive manner as to make one want to bash him over the head. If he said, "Oh my, this IS exciting" just one more time, I was going to scream. 4) Inaccurate facts about the legend and badly written diary entries made it even more agonizing. Really, nothing to love about this game except for the subject matter. PLEASE, someone, do a good game on the Arthurian Legend, please? Some other game developer which has two original thoughts to rub together. Pretty please? I feel as if I lost brain cells on this one. I dragged it out of my purchase history, wondering why I hadn't ever gone past the first chapter. Oh yeah, it didn't take me long to remember: so bloody boring that I nearly took my broadsword to my laptop just to make it stop. I surely hope I didn't spend any money on this one.
October 6, 2013
Awful Arthur
One of the worst I've ever tried ~ no hints and some objects are so small or in total darkness you have to click all over and just hope to hit on an item. DO NOT RECOMMEND EVEN FOR THE $1.99 !
January 10, 2013
The Apple logo is a trademark of Apple Computer, Inc.
The Windows logo is a trademark of Microsoft, Inc.