Mystery Legends: The Phantom of the Opera Collector's Edition
Exclusive
The ruins of the opera house stand as a tomb to unrequited love. Though long abandoned, an undying ghost still wanders its halls, plotting the return of his heart's desire. Discover the history that haunts the opera house and face all of its challenges. Confront the man behind the mask and complete the final act in Mystery Legends: Phantom of the Opera, a fantastic Hidden Object Puzzle Adventure game!

This is a special Collector's Edition release full of exclusive extras you won't find in the standard version. As a bonus, Collector's Edition purchases count toward three stamps on your Monthly Game Club Punch Card!

The Collector's Edition includes:
Bonus quest and gameplay
Integrated Strategy Guide
Original Novel
Classic love story
Gorgeous gameplay
Game System Requirements:
OS:

10.5

CPU:

1.0 GHz (INTEL ONLY)

RAM:

1024 MB

Hard Drive:

341 MB
Game Manager System Requirements:
Browser:

Safari 4.0 or later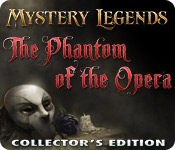 The Big Fish Guarantee:
Quality tested and virus free.
No ads, no adware, no spyware.

Reviews at a Glance

Mystery Legends: The Phantom of the Opera Collector's Edition
0
out of
5 (
0
Reviews
Review
)
Customer Reviews
Mystery Legends: The Phantom of the Opera Collector's Edition
65
65
Where's the Ending?
I loved this game!! I'm just really hoping for a sequel since there really wasn't a resolution... sequel please!!!
June 2, 2012
My favorite game! And I've played a lot of them!
The storyline, the graphics, and the uniqueness of this game drew me in. I never wanted it to end! Surprising ending. Can't wait for the sequel!! Most other games can't compare.
April 12, 2012
The best game I've ever played
This is the most beautiful game I've ever played.The story is great, but the end is a little disappointing.
January 4, 2012
Darn that ending...
This is an interesting game especially if you love The Phantom of the Opera like I do. The graphics and score were wonderful and the voice overs were equally as good but the over abundance of HOS, extremely slow hint and skip load times, the endings of both the main game and extra chapter, and the overall lagging gameplay experience made me give this about a 3.5 rounded to 4. Though since you have the SG, which I found very helpful, the hint button is only needed in the HOS if you are having extreme trouble finding an item. Now the downsides I mentioned might sound worse than they are but the biggest disappointment I had was the two endings. I expected after the ending of the main game the bonus chapter to be a decent length and would rap up the story. Nope it was short and disheartening. Overall it was fun just not as much as I hoped it would be.
September 7, 2012
A Fond Reminiscence
Those Responsible: Play Pond Game Copyright: 2010 Review: Based on completed game (completed many times, in fact) This was one of the first games that got me addicted to this type of gaming. I probably should look into some kind of ten-step program for game addicts (is that Steppenwolf playing in the background?), but until then let?s look at one of the games that started all this. Since there is more than adequate description elsewhere of the basics, I?ll only reiterate here that the whole drama of this game begins with the rather cocked-up misidentification on the part of Erik the Phantom (no relation I?m sure to Erik the Viking) concerning the *daughter* of his one true love. The deal is, after all this time, I think the best advice would be: Dude, buy a calendar and look in the mirror! But, as fate would have it, the Phantom fails to do the sensible and is somehow able to successfully lure the daughter, who he thinks is the mother, to the now defunct opera house (one should never fall insanely in love and have a penchant for arson). How exactly all this luring was accomplished is never made clear, but considering the intellectual prowess of our young protagonist, and of her parents, it?s not at all surprising such a thing could come about. Let?s just say that none of them will be taking home any Mensa awards. I mean come on, as far as we know not once did Ma and Pa Prima Donna say, ?Sweetie, I think this invitation is from the Phantom who not only might be dead but who also wants to murder your father and win the love of your mother ? highly inappropriate, especially if he is, in fact ? well, you know ? *dead*!? But fortunately for us, logic does not prevail and we are launched on a forlorn-filled adventure of unrequited love as Erik gradually reveals to us his tale of woe and we are expected to desperately search for and return to him his black roses. Not quite sure what the logic behind the roses is, but I?ve never known a phantom either, so I guess it?s best not to overthink some things. Now that I?ve got you chomping at the bit wanting to play this game, I must, nevertheless, warn you of something: You?re going to be doing a lot of running around. Yes, there is a map, but it pretty much just shows you how much running around you?re going to be doing. Remember, this was before we got so spoiled on teleportation maps and the like. This is from the good ol? days when we were expected to travel our gaming environment. And, if you think about it, having to do so really gives you more of a feeling of being *in* the place. But I?ll admit, I?m spoiled, too; so I?m happy to say the good news is that the environment in which you?ll be doing so much travelling around in is pretty effective storywise as well as artistically attractive to look at. And how is the music? It?s actually pretty top notch. Mind you, it?s definitely not the same upper-level quality as, say, that of the pre-Elephant-Game era Mystery Case Files. But it?s certainly worth keeping your speakers on. Unless you?re playing this stuff at work (yeah, and you thought you were the only one), then you?re going to be missing out on a lot of the gaming experience. Especially when?well, I won?t say any more here. But don?t sell it short. As far as the voice acting is concerned, neither is this any reason to turn your sound off; and believe me, I?ve played games in which the voice acting (if you can even call it that) made me feel just a tad homicidal. Another good feature, in my opinion, is that the characters are not animated. No animation is by and far leagues better than poor animation. The remaining gameplay is fairly standard for the genre and the puzzles are imaginative relative to the time that this game was produced. As far as hidden object games are concerned, in general, I have become somewhat neutral in my opinion of them. I have to admit I find it intensely moronic those games in which you are to rescue some character who is within moments of death, destruction and/or utter annihilation only *after* you?ve petted the hedgehog, fed the kitty, and located a butterfly key hidden amongst the items of a what-the-heck?s-that-doing-there junk pile. But that?s not really the case here. Indeed, this is a hidden-object focused game. Nevertheless, the artwork, the appropriateness of the items and their presentation is so skillfully done that even someone as jaded as I can appreciate the challenge ? and some of the hidden object scenes are indeed a challenge. Not to mention that sniggly little extra-achievement thingy they?ve thrown in. With every new game I play I always vow that I?m not going to pay any attention to those extra-achievement thingies. But I always do. In this game, however, you can curser over the items list and get a silhouette of the actual shape of the object in order to aid in its discovery ? and believe me, there are times even that doesn?t help. But if you ask for a hint or you miss-click on an object, you lose achievement points. Nuts! See what I mean about those extra-achievement thingies? Never again! So what about the Standard Edition versus the Collector?s Edition? I?ve not played the Standard Edition, so I can?t comment. But I?ve never regretted purchasing the Collector?s Edition. You get an extra chapter to play that?s kind of silly but worth it, in my opinion. However, you?re basically going to have to decide for yourself how the standard- as well as the extended-play versions ultimately end. You?re sort of left hanging ? somewhat du Maurier-like, I guess. Personally I rather like the ending I came up with on my own. But, alas, I intend to keep that to myself, thank you very much. You?ll just have to play the game yourself and then see what *you* come up with.
April 23, 2014
a good adventure
Has voice over and music is good. Graphics are also real good. The HOS are quite Challenging as some of the items are hard to see, somewhat dark is places. The puzzles are pretty good. Has a good flow to the game. Lots of talking going on and a lot and I mean lots of clicking for no really good reason. Good game.
May 18, 2013
This would have been Five Stars - IF it had an actual ending
Despite this being a Small File game it still puts most glossy Large File games to shame. The progression is instantly gripping and immersive and this continues, more or less, throughout the game with the distinct feeling that this may have been a template for Dorian Grey Syndrome (the same voice actor plays the Phantom in this actually). The graphics while being less detailed are still exellent and comparable to the "Shiver" series with lots to do. The gameplay is quite linier but kept interesting and relevant to the story. There seems to have been some confusion as to the mood and atmosphere among the programmers that spoils the experience somewhat though. The the voice actor playing the role of "The Phantom" plays it with the same sinister, unhinged and disturbing tones as he did for Dorian Grey Syndrome but this contrasts shaply and awkwardly with the Actress playing the herowin because considering that she has been drugged and kidnapped by a psychotic killer she is actually quite chipper about the whole situation - in fact she practically skipps and whistles her way through the game (the same actress who played Nancy Drew in some of that series with the same breezy chearful attitude). As many other people have said here though this game - both the main game and the bonus chapter - dosn't actually have an ending! The game just.....well......stops with no conclusion, no big reveal, no explanation at all. Literally it just stopps dead and that's that. Lord knows why this was released in it's unfinished state because there is no follow up game so I can only imagine it was either a bugetary or lack of time issue. Conclusion - I enjoyed the actual gameplay even though there is no ending and it still puts most Full Price Large File games to shame.
July 15, 2013
Backtracking Extravaganza, but fun!
Alright, let me get this out now...you backtrack...A LOT! It drove me INSANE! Like, seriously? Is that how game developers get their kicks?!? By making us constantly go back and forth, so that we get lost?! IT'S NOT FUNNY! IT'S ANNOYING! Anyway, now that I got that out of the way...I have to say I'm a huge fan of the musical, and the book. When I saw that once you beat the game, you get the book version, I went nuts. That was really cool! The story line had it's ups and downs. I liked how Raoul and Christine had a daughter, and I liked how the Phantom mistook her as Christine. What I didn't like though, is that it never clarified if the Phantom was dead or not. Not even in the Collector's Edition Extra game play. But the story like flowed nicely...The Phantom is forcing her to go through the Opera House, all the while trying to make her remember everything that her mom went through , trying to awake that possible love Christine might of had for the Phantom. There's one thing that irked me though: the ending. During he regular game play, it leaves off on a cliff hanger, which kind of forces you to get the Collector's Edition to figure out what happens. But, when you do that, you just get another cliff hanger that doesn't resolve anything! That was a major disappointment, and it was really annoying! I wanna know if she makes it out or not! GRRR!!! Basically, the ending could have been better. The game play was good, it followed the usual HOG game play. You look around, find stuff, and solve puzzles. But here's the thing that I didn't like, other than the backtracking...the black roses. Yes, I get that it's the key to the Phantom trying to make her 'remember'...but was it necessary? It was more tedious trying to find those stupid things than solving the hardest puzzle in that game! I just feel that something better could have been used. Also, THERE'S A JUMPSCARE IN THIS GAME! SERIOUSLY, GAME DEVELOPERS? SERIOUSLY?!? First, you make us backtrack like crazy, then you try to scare the bananas out of us?! Why?!?!?! Also, there will be times where you, due to the backtracking, may not know where to go or get completely lost. But, other than that, the game play was fairly good. The puzzles were moderately hard, but solvable. This is probably the first hidden object game I've played where I didn't have to use the Skip button on a puzzle. But, the only thing that bothered me was that you had to find multiple pieces before you can do the puzzle, which at times was harder than the puzzle itself. The graphics were beautiful, and did the story justice. The Opera House both looked creepy but enchanting, but was again done beautifully. The voice acting. I liked the voice acting for the most part. The only voice acting I didn't like was the daughter's. She just basically stated the obvious 99.9% of the time, and it got a bit annoying after a while. Also, that one random time that you hear Christine's voice in the bonus game play kinda scared me and made me jump (didn't expect it). The Phantom's voice though was really good. I do recommend this game, but mentally prepare yourself for the immense amount of backtracking that you have to do.
April 1, 2013
Good game but short
Again, a great game but the bonus chapter was way too short. Its not worth the extra we pay. Having said that, the graphics were awesome. I would have liked to be able to use the map to skip to other locations.
August 10, 2012
Beautiful environment
I tried this game right after playing one of the Murder Case Files, and it does compare to the adventure level. The game is visually outstanding, and the detail is consistent throughout the entire game. The story was pretty unique, especially if you are new to the Phantom of the Opera. I have still never seen the play or the movie. I felt like the puzzles were all challenging and relevant to the story. The only complaint I have about this game is how it ended. I read on previous reviews that the end "ends before the game ends", but I was unsure of what that meant until I experienced it. I had the collector's edition and was surprised that I did not access any of the bonus material. Even so, I LOVED this game.
December 28, 2011
The Apple logo is a trademark of Apple Computer, Inc.
The Windows logo is a trademark of Microsoft, Inc.