Twisted Lands: Shadow Town
Gather items, solve puzzles and make spine-chilling discoveries as you explore a deserted island in Twisted Lands: Shadow Town! Why does your heart beat faster when you peer into a dark room? What makes the hair on your neck bristle when something invisible whispers in your ear? Dive into the emotion of fear, and find out, in this spooky Hidden Object Puzzle Adventure game!
Game System Requirements:
OS:

Windows XP/Vista/7/8

CPU:

1.0 GHz

RAM:

512 MB

DirectX:

9.0

Hard Drive:

269 MB
Game Manager System Requirements:
Browser:

Internet Explorer 7 or later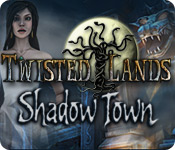 NEW299
The Big Fish Guarantee:
Quality tested and virus free.
No ads, no adware, no spyware.

Reviews at a Glance

Twisted Lands: Shadow Town
0
out of
5 (
0
Reviews
Review
)
Customer Reviews
Twisted Lands: Shadow Town
47
47
Don't Go On First Impressions
First time I tried this game, I gave up almost before I started. There is too much time spent on the (irritating) lead in and I found the gameplay annoyingly hard to follow at first. However, I'm here to say I was wrong. After playing and enjoying the sequel, Insomniac, I gave this one another try. It's actually very well done, and I have no hesitation in recommending it. The intro doesn't really lead you to expect the superb artwork that follows. HO scenes are uncluttered yet challenging and relevant. Music very atmospheric although it got on my nerves after a while. I enjoyed the focus being on HO rather than puzzles as I'm not much at them. The adventure stuff was a little difficult to follow and I needed to use hint to point me to the next task more often than usual, but it did follow a logical sequence in line with the story. My only criticism (other than the 'film' segments, which I never took to) is that there is too many clicks involved in getting from the scene where you find the tool and the scene where you use it. To and froing is okay by me usually, but it tried my patience here. In the game's defense, part of its governing logic and theme is being trapped in mazes, so there is a reason for it. The ending was satisfying even though you never really find out what was going on. More on this is available in the sequel, where much of this game's story makes more sense. Great games to play back-to-back.
December 30, 2011
Shipwreck fun
Not much of a storyline, you have been shipwrecked on an uncharted island that was inhabited over a 100yrs ago but now there is no one to be found. There are no VOs, the graphics are cartoonish and grainy in the cut scenes. The HOS are a good challenge and crisp compared to other scenes. The puzzles are of a good variety. There is no map, just a journal and a LOT of back and forth so be ready to put that memory of yours to the test! The end leaves it wide open for the sequel and enough curiosity to want to play it to hopefully get the rest of the story and find closure.
May 23, 2012
Worth the money
Not a bad game. Lots of going back and forth. I turned off the music. I'm liking voice overs now. Can be challenging in spots but the hint button works great. Try the sequel.
August 13, 2012
Twisted Land: Shadow Town
I Bought the game based on the review. I really liked the game.I did not remember that I had tried the game before where I had not get it. It is a very easy game where the hint button is used a lot because there is no SG. You do not loose your hint unless it is for a task or when you are in the HOS. The HOS are easy to do. The mini games too. The ending is surprising but there is a movie option where you can replay and it help. The graphics are not as crisps as you have with newest games but they are good. I enjoyed the game to the point where I played from the start tto the finish with not many interruptions. This is new for me. So I reccommend this game. Enjoy.
April 13, 2012
Not bad, but glad I didn't pay full price
The HOS were great, but the cutscenes were clunky & the animation was second rate. The characters looked like bad CG from the early 90's. There is a lot of unnecessary info lying around. I found the puzzles challenging enough that I actually skipped a couple. The story sometimes goes out of its way to shock the player, which at one point creeped me out in a bad way. The ending is also disappointing. Bought it during the Presidents Day sale, & glad I didn't pay full price. Buyer beware.
March 28, 2012
Twisted. Yup.
This is a good challenging game, although it has a LOT of navigation. I longed for an interactive "map" to go back and forth, but then I would have missed all the fun wandering around in the fog. Right. Actually the hint system is good as it doesn't have to recharge when you are just seeking which direction to go next. The final cut scene must have been where they came up with the "Twisted" title. It left me scratching my head. Twice.
November 19, 2012
HAZY AND WHAT"S WITH THE ENDING (OR NON-ENDING)?
Moody with a lot of fog. Lots of places and things to do. Found myself using the W/T just to find out where to go next so I wasn?t wandering around forever looking for something I could do. Could have used an interactive map, especially considering the number of scenes encountered with heavy fog and barely visible trees and the length of some of the traveling. Other games have made the graphics fairly clear even though there was fog around; not this game. The HOS are frequently (but not always) somewhat difficult to delineate objects. Fog appears in many of them, making objects indistinct, while other HOS are in shadows around dilapidated surroundings (broken bricks, chain link fence) that obscure the items. Interesting how some of us think the HOS are hazy while others think they are crisp and clear. Faces frequently spin out at you from your cursor when the hand or magnifying glass indicate you can do something there. The ending was abrupt and I?m confused. I looked in the forum ? she?s knifed him, she?s shot him ? but my version has nothing like that. The submersible is empty but ready to go. Neither she nor he is around. Maybe there?s more than one version out there. I have the SE. Despite the above, I liked the game and I guess it?s time I play Insomniac, which I?ve had for some time.
October 4, 2012
A game that gave me nightmares
This game gave me nightmares soon after I started playing it. It wasn't the graphics but the storyline. The diary entries creep into your head and fester there. It got to a point where I wouldn't play this game at night because I knew it'd be inviting another sleepless night! The things I disliked about the game are the backtracking and the portions of a room that remain active even though you are done interacting with them; makes you think there's something else to investigate or an item to pick up even though there's none. There's no map here but the geography is easy enough to remember. The hint button recharges quickly and the puzzles are challenging enough for me (i had to skip a few, in fact), All in all, this game convinced me to try the other games in this series.
September 19, 2012
A good game but ...
This is a good game in many ways. Long playing time Music enhances the atmosphere More HO'S than puzzles but not interactive Graphics clear but drab I especially liked the woods and tunnels (play the game to figure that out) Lots of locations This game doesn't hold your hand, you have to think about where to go next and how to use your inventory. My one issue with this game is the storyline - ending didn't really explain what happened. This is a good game to get on sale. It's worth your time.
June 4, 2013
Storyline doesn't spell it out for you...and I like that
TITLE?Twisted Lands: Shadow Town VERSION?Standard Edition (full game) DEVELOPER?Alawar GENRE?Hidden Object Puzzle Adventure (supernatural) STORYLINE?As you're showing your girlfriend Angel the latest in your illegally acquired treasure trove of underwater artifacts, you fall overboard. After a time, you make landfall on a deserted island where you find your boat?but Angel is nowhere to be found. There's a cruise ship here, and a town. Both hint of mass disappearances and strange happenings. Uncover the mystery of Shadow Town! OVERVIEW?After reading the reviews, I was prepared to dislike this game, but was pleasantly surprised. Perhaps the modern generation isn't used to subtlety, because this game had it in spades. I enjoyed how enigmas were hinted at, but much was left to the imagination because, frankly, my imagination is much better at frightening me than mere graphics (cf-Alfred Hitchcock). GAMEPLAY?Mainly a mix of adventure and HO scenes; there aren't many puzzles or mini-games. You'll find a LOT of items, but the inventory is very responsive. HOs do repeat, but items within them do not. INTERFACE?Journal: Yes, and you'll need it as it stores clues as well as tracking your progress. Map: None, and that's this game only real downfall, as there is a LOT of backtracking. Hints: Cool "shattered glass" effect locates items in HOs and guides you outside of them. Specials: None. Strategy Guide: N/A. TECHNICAL?No issues. GRAPHICS?Despite the foggy nature of the island, and the painterly style of the graphics, I found the HO scenes crisp and the items easily identifiable. And my eyesight is not great. In certain scenes, the fog does obscure details, but it's intentional. CUTSCENES?Done in stillframe series style. MUSIC?Dramatic and orchestral, but not at all intrusive. SOUND?Ambient and game sounds appropriate and not annoying. VOICEOVER?None. SUMMARY?While Shadow Town does not have the bells and whistles of other games, I felt it worth my money and time because the storyline was compelling. It left just enough to the imagination to lure me through the game and to whet my appetite for the sequel without being a disappointing ending. In fact, the twist surprised me and, while it did leave some questions unanswered, it was clear that those questions were being left open deliberately for a sequel. I recommend this game and I'm looking forward to playing Insomniac.
March 11, 2013
The Apple logo is a trademark of Apple Computer, Inc.