Cursed House
Banish the evil spirits from the house that is cursed and possessed by ancient evil creatures! Save the Cursed House using your Match 3 skills, and ward off the ghosts! Gather magic power for an ancient amulet, and use its power to restore the house to its former beauty. Match up the different objects and save the day in Curse House!
Awesome gameplay
Fantastic action
Banish the evil spirits!
Game System Requirements:
OS:

Windows XP/Vista/7/8

CPU:

800 Mhz

RAM:

256 MB

DirectX:

8.0

Hard Drive:

56 MB
Game Manager System Requirements:
Browser:

Internet Explorer 7 or later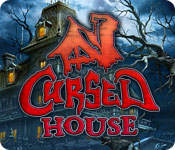 NEW299
The Big Fish Guarantee:
Quality tested and virus free.
No ads, no adware, no spyware.

Reviews at a Glance

Cursed House
0
out of
5 (
0
Reviews
Review
)
Customer Reviews
a really good match 3
you are trying to lift a curse that has been placed on a house and the different levels are won in different ways so it doesn't get boring. up to the last two levels i had no trouble but those two levels beat me and fortunately you could skip each part of the level that you don't win. no sound for me. possible sequel????
April 3, 2013
Fun game to play!
This game was fun to play. Not so challenging as to be stressful. Would like to see how it progresses.
October 23, 2012
Doa little demon house cleaning!
This is my favorite M3 game... spooky and charming... music appropriately eerie as you play to clean up your cursed (demon infested) house
September 13, 2012
Very Unique Match 3 game
Love how the requirements for winning change with each level. I've played this game over and over and still really enjoy it, Beware, this is a really effective time waster, tests my self control. Music is fun but a little over the top at times, so I keep the sound relatively low. Really glad I bought this one.
January 11, 2015
OK M3, but certainly not great
As a M3 game, this was the most imaginative game I have played. Every one of the levels is different; almost like having 10 different games. The first 7 levels were fun blow things up games that are addictive. Then came level 8, and level 8 was no fun. In fact I passed on playing all the stages of that level. This level was ill conceived and poorly executed. I lowered my evaluation of the game to a 3 at that point. I almost erased it. Level 9 pits you against the game itself and, of course, it cheats. I did not replay any level I lost, but I learned how to cheat back and won a few. This did nothing to raise my evaluation of the game. Mediocre. Then came level 10 and again the innovation and imagination prevailed. At this point I grudgingly raised my evaluation to about a 3.6. OK. So I?ll give it a weak 4, but it certainly is not the best game I have played due to the inclusion of two levels they should have thrown away. I recommend this game, but don?t expect too much. It is above mediocre and well below great. However, I have already gone back and replayed some of the fun levels.
March 12, 2012
It's lots of fun!
To begin with, I'm not a big fan of match 3 games, because most have the dreaded timer. I have two other match 3 games without timers and hubby asked me the other day to find a new match 3 game. After checking out many, many match 3's, I finally found this one. It's a hoot!! No timer, a little bit of creepiness, and the levels are fun to play. You get to dump demons into fire, bring keys to locks, and collect coins from frozen cells..all without a timer!! the graphics are fine, sounds are great, but I did turn the music down, like I do with almost any game I play, so you'll have to judge that for yourself. It was hard to find a game with no timer that wasn't made for little kids. I didn't want a timer..I also didn't want a game along the "see jane play" age level. This game is perfect for someone like me who doesn't play a lot of match 3 games. I will definitely play this game again, as the levels are fun, the story is a little creepy ( I love creepy), the graphics are great, and who wouldn't want to play a game with a cursed old house in it? Try it if you like a match 3 with no timer but lots of entertainment value.
August 19, 2012
Love the sound effects
A Match 3 game with great sound effects is what initially draws me in as it captivates my attention and its a make it or break it aspect for me. Some games have the most annoying sounds when you match things, others like this game have an almost mesmerizing sound that keeps me very intrigued. I didn't realize how old this game is as it was released for PC users in 2010 but mac users just received this beauty in 2012! What a long wait! However, I have noticed by reading some reviews that this game did have an upgrade somewhere before being released to mac users because there is NO timer on ANY level. There are levels you can be defeated by the demons because the computer gets more coins than you or the spider/crabs reach the top of the match 3 board BUT you can either play it til you beat it like I did OR skip it. The music was fitting but annoying at the same time. Sometimes I kept it on, other times I turned it down. Like I said though, I loved the sound of the matches and the easiness of the gameplay. I've noticed some match 3 games get slower or wont even let you click inbetween plays and this game would let you move everything at the same time so there was no pausing. Even though its an untimed game, its hard. It takes a long time to pass levels so its very time consuming. Originally I thought only have 2 powerups the whole game would not be good BUT you get one power up for collecting matches of 4 and another power up for collecting matches of 5. The powerup for the matches of 5 is heavy duty and can basically complete an entire level for you even at the start of it. I liked that every room has a different type of match 3 play. Some are more board game collect coins style, others are key in the lock and some are just regular ice and fire plus more. The update must have deleted the timed scenes and the ability to not skip because now its a highly playable and fun game. I highly recommend this to anyone who likes unique games or match 3's and untimed games. I had a great time playing it.
September 12, 2012
THANK GOODNESS FOR THE SKIP BUTTON
I was moving right along playing the several levels within each room when I came upon Rooms 8 & 9 (or was it 7 & 8?) and after MANY attempts was unable to beat the level(s); at the end of the level, the game'll ask you if you want to skip the level or retry the level and though disappointed in having to do so, I finally conceded and skipped the levels that I was unable to beat. This game is NOT timed which again, is a BIG plus for me but I do have to admit that within the last room, I did NOT enjoy the constant scream as I rid a tile of a ghost; personally, I could've done without that. Overall, this game is a very nice game and if you skip certain levels that you're unable to beat, then it's not as long as it appears as I found the previous rooms quite easy to do.
September 16, 2012
Challenging and addictive
This is a nice change from the usual M3 game. It is all about the game play and not so much on the visuals or the sounds, although they are fine. The game does not hold your hand, but it is doable if you keep at it. Some of the levels are harder than others, especially the icky spider one, but it felt like quite an accomplishment to finish that one. I think developers who go outside the box should be rewarded and I recommend this game. Cursed House 2 is even more challenging and much longer, well worth trying.
November 29, 2012
Different Match 3
Like this game. Short but a different twist on match 3s. Some stages had a bit of a challenge. Loved burning demons!
July 10, 2012
The Apple logo is a trademark of Apple Computer, Inc.