A Magnetic Adventure
Welcome to an adventure of magnetic proportions! Using a small magnet, solve physics-based puzzles that will stretch your gray matter in ways you never imagined. Once you learn to utilize the magnetic force of your little hero, you'll be able to manipulate a variety of mechanisms, all of which are holding a totem you need in order to protect your world. Open safes, repair clocks and activate teleporters in this innovative Puzzle game, and go on A Magnetic Adventure!
Clever gameplay
Perplexing puzzles
Use a mighty magnet!
Game System Requirements:
OS:

Windows XP/Vista/7/8

CPU:

1.6 GHz

RAM:

256 MB

DirectX:

9.0

Hard Drive:

54 MB
Game Manager System Requirements:
Browser:

Internet Explorer 7 or later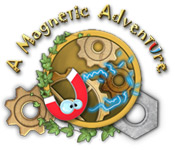 NEW299
The Big Fish Guarantee:
Quality tested and virus free.
No ads, no adware, no spyware.

Reviews at a Glance

A Magnetic Adventure
0
out of
5 (
0
Reviews
Review
)
Customer Reviews
A Magnetic Adventure
17
17
A game about magnets?
How odd, I thought. A game about magnets, where's the fun in that? Well, it's just fantastic. Great mind-stretching fun. No uber graphics, no complicated storyline, no characters banging on about lost siblings - and don't we all need a rest from that! A wonderful interactive, puzzling & engaging game. A breath of fresh air from BFG. Well done.
December 22, 2011
Fun physics puzzles
I love puzzle games and this one is really FUN! It has 50 levels and I wish it had 100. The physics of the game are excellent. The puzzles are imaginative. I love the variety. Most of the puzzles are about medium difficulty but there are a few that require a good bit of pondering. It has a simple little story to give the puzzles purpose. The jazz music is pleasant and I did not find it annoying as I solved the puzzles. The only negative is that there is no skip for the puzzles. There is a hint button that is available after it charges. I feel that if you ask for a hint that you have already been working on the puzzle for a while and you should not have to wait. The hint button gives you a clue for the next move but does not solve the puzzle for you. The hint clues are not always crystal clear in showing you what exactly to do next. After using a hint, if you want another one you have to wait for it to charge up again. Over all I enjoyed the game and I hope they create another one that is twice as long.
November 11, 2011
Cute and fun!
This is a cute puzzle game that is fun for both adults and children. I enjoyed it myself, and my 8 and 6 year old are still enjoying it, so for that alone it was clearly a worthwhile purchase. It's more challenging for them than for me, but even still there were some puzzles in the game I wasn't able to figure out without hints, so I would say it's not too easy, but not too hard either. It's an imaginative puzzle game as well, which is part of why I qualify it as cute. The graphics are pretty good, given that there's really only a limited amount of things shown anyway. It's basically all wood, gears, metal, plants, light bulbs, and simple things, but they are well done. The music is okay and not annoying. And the storyline helps tie it all together a bit. As another reviewer mentioned, there is no skip which can make it massively annoying when you're stuck and have to continuously wait for hints over and over to try and solve a puzzle. I would say that there are only one or two puzzles where this was an issue for me, but having either a skip or something that gets a clue after you've asked for hints repeatedly would be nice. Ultimately, it's an enjoyable game and if you like puzzle games, I would say give it a try!
December 3, 2011
First class, tip top absorbing puzzle game
Something for everyone. It is fun, annoying, educational, interesting, slightly addictive, surprising, awkward and downright excellent. Worth every penny. Go on......BUY IT NOW
January 10, 2012
180 seconds is a loooong time to wait!
I found this a real good game, which had the challenge as some were easy and some not so easy. So then you can use the Hint button, but I would say that 180 seconds, which is 3 minutes, is a long time just to sit there. A waiting time like 30 seconds would be okay, as is in many other games. One other thing is that the hint you will be given, can be the same answer you got last time you asked for it! Over all a nice little game which I hope will be followed by a Part 2 and then hopefully with 100 puzzles.
January 31, 2012
Short, but it draws you in - A guy's review
*review based on completing the full game* I love physics puzzles and this has a great mix of them, using magnetism as the main factor to solve them. The puzzles themselves are quite creative and it requires you to use your brain quite a bit. Even a bit "out-of-the-box" thinking is required on a few of them. It's all in the vein of The Incredible Machine and similar games, which I adore. It is unfortunately not ALL good. I found the game a bit disappointing when it came to the length of it. It's all over way too fast, and it ends rather anti-climatically. Also, the game mechanics seemed a bit slow and clumsy. Not so much so that it is game breaking but enough to annoy a little. Seeing the physics premise there is actually ways of getting stuck where it shouldn't be, so the game sure could have used an "undo last move" function instead of having to restart the whole puzzle over again. The hint function however is very clever and luckily do not recharge too quickly. The graphics are nothing special, but it wouldn't make sense to overdo this part in a game like this. I have sure seen a lot worse around. I didn't have the sound on while playing through this, so I can't comment on that part. I love games like these and truly hope to see more of it in the future, just a bit longer so you feel you get your money's worth. Would recommend it to anyone who likes physics based puzzles and for people who like to challenge their brain some. But, honestly, I would wait until it was on a daily deal or another offer, as I don't really feel it is worth the full price seeing how short it is. TJ
June 16, 2012
Great, unique, challenging game
I, too, thought, "What?" when I saw the name of this game. Then I saw that it was about magnets. And I said, "Huh?" Then I read the reviews. Then I tried it. Then I smiled broadly and became lost in the challenges and the creativity, and fell in love with one very cute magnet! What a great game! My one and ONLY complaint is that it's too short. Too short :)! So much fun, so much brain work, so many smiles, so many "Yes!" hisses when I solve another one. Great game!! More, please?
April 8, 2012
Great game!
I love this game and I wish they would create more games like this! So much fun for the whole family!
December 29, 2011
Unique and addictive puzzle game!
This is one of my favorite games I have downloaded from BFG! These are very unique spatial puzzles that really are suitable for a wide age range. Because the puzzles are mechanical rather than logical, the game also has a nice replay value. (I loved this one so much, I played through the game twice!)
April 22, 2012
FUN
Great physics/puzzle game if you like that sort of thing - which I do. Buy when on sale though as you might get bored with it.
January 19, 2013