A Magnetic Adventure
Welcome to an adventure of magnetic proportions! Using a small magnet, solve physics-based puzzles that will stretch your gray matter in ways you never imagined. Once you learn to utilize the magnetic force of your little hero, you'll be able to manipulate a variety of mechanisms, all of which are holding a totem you need in order to protect your world. Open safes, repair clocks and activate teleporters in this innovative Puzzle game, and go on A Magnetic Adventure!
Clever gameplay
Perplexing puzzles
Use a mighty magnet!
Game System Requirements:
OS:

Windows XP/Vista/7/8

CPU:

1.6 GHz

RAM:

256 MB

DirectX:

9.0

Hard Drive:

54 MB
Game Manager System Requirements:
Browser:

Internet Explorer 7 or later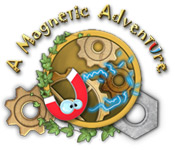 NEW299
The Big Fish Guarantee:
Quality tested and virus free.
No ads, no adware, no spyware.

Reviews at a Glance

A Magnetic Adventure
0
out of
5 (
0
Reviews
Review
)
Customer Reviews
A Magnetic Adventure
22
22
Great logic and machine teaching game
Both my sons and I liked playing this game. You need to use magnetic principles, as well as levers, gears and switches to get through each puzzle level (mouse use required). No two levels are exactly the same. Some can be too challenging for the younger set, but most are winable by trying again a different way.
November 11, 2012
Challenging puzzles
I really enjoyed this game. It is a series of puzzles that get increasingly difficult as you go forward. It is very different than the HOG and Match 3 which I find very boring now. You do have to go through a series of fairly easy puzzles to reach the more challenging ones, but it is worth it. I wish there were more games like this.
August 10, 2014
Family Game
A good puzzle game. Some of the puzzles took some thought. My granddaughters needed some help on some of the levels. Good learning game, as you have to think about how to use the magnet to accomplish the goal.
September 30, 2012
its amazingly addictive
this is SUCH a fun game. it is beautifully illustrated, the music is encouraging, not annoying and you just want to sit and fiddle with these puzzles for hours. i HIGHLY recommend it.
August 11, 2012
Fun physics puzzles
I love puzzle games and this one is really FUN! It has 50 levels and I wish it had 100. The physics of the game are excellent. The puzzles are imaginative. I love the variety. Most of the puzzles are about medium difficulty but there are a few that require a good bit of pondering. It has a simple little story to give the puzzles purpose. The jazz music is pleasant and I did not find it annoying as I solved the puzzles. The only negative is that there is no skip for the puzzles. There is a hint button that is available after it charges. I feel that if you ask for a hint that you have already been working on the puzzle for a while and you should not have to wait. The hint button gives you a clue for the next move but does not solve the puzzle for you. The hint clues are not always crystal clear in showing you what exactly to do next. After using a hint, if you want another one you have to wait for it to charge up again. Over all I enjoyed the game and I hope they create another one that is twice as long.
November 11, 2011
Cute and fun!
This is a cute puzzle game that is fun for both adults and children. I enjoyed it myself, and my 8 and 6 year old are still enjoying it, so for that alone it was clearly a worthwhile purchase. It's more challenging for them than for me, but even still there were some puzzles in the game I wasn't able to figure out without hints, so I would say it's not too easy, but not too hard either. It's an imaginative puzzle game as well, which is part of why I qualify it as cute. The graphics are pretty good, given that there's really only a limited amount of things shown anyway. It's basically all wood, gears, metal, plants, light bulbs, and simple things, but they are well done. The music is okay and not annoying. And the storyline helps tie it all together a bit. As another reviewer mentioned, there is no skip which can make it massively annoying when you're stuck and have to continuously wait for hints over and over to try and solve a puzzle. I would say that there are only one or two puzzles where this was an issue for me, but having either a skip or something that gets a clue after you've asked for hints repeatedly would be nice. Ultimately, it's an enjoyable game and if you like puzzle games, I would say give it a try!
December 3, 2011
Short, but it draws you in - A guy's review
*review based on completing the full game* I love physics puzzles and this has a great mix of them, using magnetism as the main factor to solve them. The puzzles themselves are quite creative and it requires you to use your brain quite a bit. Even a bit "out-of-the-box" thinking is required on a few of them. It's all in the vein of The Incredible Machine and similar games, which I adore. It is unfortunately not ALL good. I found the game a bit disappointing when it came to the length of it. It's all over way too fast, and it ends rather anti-climatically. Also, the game mechanics seemed a bit slow and clumsy. Not so much so that it is game breaking but enough to annoy a little. Seeing the physics premise there is actually ways of getting stuck where it shouldn't be, so the game sure could have used an "undo last move" function instead of having to restart the whole puzzle over again. The hint function however is very clever and luckily do not recharge too quickly. The graphics are nothing special, but it wouldn't make sense to overdo this part in a game like this. I have sure seen a lot worse around. I didn't have the sound on while playing through this, so I can't comment on that part. I love games like these and truly hope to see more of it in the future, just a bit longer so you feel you get your money's worth. Would recommend it to anyone who likes physics based puzzles and for people who like to challenge their brain some. But, honestly, I would wait until it was on a daily deal or another offer, as I don't really feel it is worth the full price seeing how short it is. TJ
June 16, 2012
A Little Magnet that Makes One think
Thanks for the reviews - i would have passed up on this wonderful game but the reviews got me interested. What a great concept - imagine a little magnet that stretches your brain to think outside the square - more of this please. I agree with another review there should at least be an "undo" button instead of doing it all over. And the hint button takes too long to recharge. I might wait for DD as others mentioned it's a short game. Try it....it's great fun!
October 7, 2012
Very Challenging! For those who are very good at building games.
This review is based on the one hour trial. I personally don't like this game, but I still consider it quite good. This game is best for people who like games that really make them think. The first few puzzles are pretty simple, but this is one of those games that can get you stuck forever on a certain level if you're just having problems figuring it out. I am definitely not someone who likes that sort of game. But this would be an excellent game for those who do. This game is pretty neat, and would be quite fun for those who like the gadget/builder/machine games. You have to solve puzzles by using magnets to move things. It gets quite hard, and the biggest downfall is that if you can't get past a level, well, you're kinda done. I didn't even finish the trial as I got stuck, but I don't have the patience for such games. I recommend this game with reservations. You really have to be the type that likes these games.
August 11, 2012
As others have already said...
Great find, gotta love physics based games. Level of difficulty was just right and the story and characters were cute and added a nice touch to the game without being distracting. I just wish it were twice as long and yes, it would be nice if the hint button charged a little faster but when I got stuck I just went for a cup of coffee and came back to it later. Also some of the ones I got stumped on my six year old was able to point out the next step in the solution so I guess it just needed a fresh pair of eyes to work it out. Easily worth the price, this is a must have for any fan of the physics-based genre!
April 4, 2012