Sherlock Holmes and the Hound of the Baskervilles Collector's Edition
Charles Baskerville is the latest victim of a centuries-old curse! Now, Henry Baskerville needs Sherlock Holmes' help to break the curse, before another murder occurs! Travel to legendary Baskerville Hall, and figure out exactly what is going on, and what the mysterious Hound of the Baskervilles is after. Crack the case in this incredible Hidden Object Puzzle Adventure game, Sherlock Holmes – Hound of the Baskervilles! This is a special Collector's Edition release full of exclusive extras you won't find in the standard version. As a bonus, Collector's Edition purchases count toward three stamps on your Monthly Game Club Punch Card!

The Collector's Edition includes:
Bonus gameplay
Wonderful wallpapers
Minigame gallery
Exclusive Book of Mysteries
In-game strategy guide
Game System Requirements:
OS:

Windows XP/Vista/7/8

CPU:

1.6 GHz

RAM:

512 MB

DirectX:

9.0

Hard Drive:

377 MB
Game Manager System Requirements:
Browser:

Internet Explorer 7 or later
Blood
Mild Violence
Use of Tobacco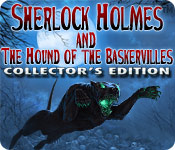 The Big Fish Guarantee:
Quality tested and virus free.
No ads, no adware, no spyware.

Reviews at a Glance

Sherlock Holmes and the Hound of the Baskervilles Collector's Edition
0
out of
5 (
0
Reviews
Review
)
Customer Reviews
Sherlock Holmes and the Hound of the Baskervilles Collector's Edition
41
41
Love it!!
I bought the CE cos I really find the SE very entertaining so I bought it. Totally loved this game, the storyline is nothing like the real novel and die-hard Sherlock fans may not find this great, but it is a great game and the graphic, the puzzles and everything in this game is fantastic.
June 10, 2012
""NEED MORE""
I so loved this game Sooo Much that I'm Looking around for something as Challenging and Personal like Holmes and Watson who will talk to U they are like your best friends during the game &&& their voices are REAL Better Stop Now before I Spoil the game for Everyone ths R.... and the Recommended are YYY
April 28, 2012
Awesome game!
I have to say this is one of my favorite games so far! The graphics are great, the audio is really good, the puzzles are fun--I highly recommend this one!
December 27, 2011
Sir Arthur Conan Doyle is spinning in his grave... but the game is good
Review based upon completion of the game plus bonus story. Sherlock Holmes is summoned to Baskerville Manor to lift a curse from the family that manifests in a dog. You know the story... or do you? The Good: + game length + good graphics + achievements + special abilities + interactive map that shows a picture of the location and has a quick-travel function + varied minigames... The Neutral: o ...that are all run-of-the-mill and one (mine navigation) is recycled from another game (with the same solution) The Bad: - original story has been tampered with... heavily Bonus content: Gameplay in the Bonus Content took me about 90 minutes, and I think it is essential for the understanding of the story. You will get a bit of closure in the regular game, however, and open questions are only solved after the bonus. Further features include a replay opportunity for HO scenes and minigames, three songs, the four video clips and a very short book that summarises the story on page 1 and then shows the Baskerville portraits again. Bottom Line: Sherlock Holmes goes magic (yeah right) in a travesty of the Baskerville story. However, the game itself is pretty good.
April 29, 2012
Incredibly unique and fun, but stick with the SE...
Want a breath of fresh air? A new experience? Tired of the same formulaic HOPA game? You'll definitely want to grab this, then! You get to play as Sherlock Holmes and you have your trusted friend and sidekick Watson at your side, of course. You are both visited by Henry Baskerville, who tells you that his uncle, Charles Baskerville, has just been murdered by the cursed hound that has been systemically killing the Baskervilles for generations. In desperation, he comes to you for help in order to break the curse, before the hound claims Henry as its next victim. The immersiveness of the storyline, the fast-paced soundtrack, fun and intriguing dialogue between Sherlock, Watson, and Henry, and the gameplay elements such as traveling back in time to gory crime scenes- makes for such a sensational game! There is so much to do in this game. It takes place entirely in the Baskerville manor (and around the property). You get to travel around the house, visiting the rooms of each of the family members who had been killed by the hound, all while learning about them. What is really neat is that each of these rooms have a wolf head that -- if you find and collect its crystal eyes -- will activate and send you back in time to when they were murdered. What you're presented with is a ransacked room with slashes and blood all over. You can travel back and forth from the present to the past in order to collect clues from the crime scene. You also have a medallion, allowing you to use magical powers to perform certain actions that are needed to find and acquire some clues/items. These include super strength to lift things and break stuff open, increasing your perception to see in dark corners, materialization to materialize picture objects into real ones, speeding up time to make things go faster like growing a plant, and telekinesis to lift or move things you can't reach. If the fact that there is magic involved in a Sherlock story bothers you, know you're not alone. Lots of other reviewers have pointed it out as well. You're not going to like it at first, but you'll quickly get over it. The game delivers on so many other accounts that it makes up for the oddity of Sherlock believing in and using magic. Visually, this game isn't great by any means. I'm a pretty big graphics-nut so take that for what you will. By any means, it's not awful, it's just decent- maybe even a little outdated. Oddly, the average-looking scenes are the crime scenes you visit in the past because they have this bluish haze and the colors are more vibrant. The astronomy room and Oliver's room are probably the most impressive/visually appealing rooms in the entire game. If you couple that with the crime scenes and the general scenes of the game, there is a huge graphical inconsistency. This didn't take away [much] from the game experience, so it didn't bother me enough to lower the rating down by 1 star. The soundtrack was excellent, it fit the game theme perfectly and was very stimulating and exciting to listen to. Also, prepare yourself for hours upon hours of things to do. There are 32 mini-games and 24 hidden-object scenes. Adding the time it took to beat the game with the bonus gameplay, I'd clock this game at 6 hours easily. I personally neared 7 hours because the puzzles/mini-games and the HOS are fairly challenging and I was really taking my time with them. 6-7 hours is really impressive, considering most games are 4-5 hours, including the bonus gameplay. If you get the SE, I'd say 5-6 hours, which is incredible for your money's worth. With that being said, the ONLY thing I didn't like was that the CE was incredibly disappointing to me. The CE extras include re-watching the cinematics, the soundtrack, an extra hour of bonus content, replayable puzzles and HOS, a Book of Mysteries that offer fun info and additional puzzles, and wallpapers. When I buy CE's I'm usually interested in three things only: bonus content, music, and the wallpapers. If you recall what I said earlier about being a graphics-nut, the wallpapers were SO disappointing. Like I said earlier, Oliver's room is the best looking scene in the entire game (you only see it in the bonus gameplay) and it would have made a FANTASTIC wallpaper, now I'm left to screenshot it. The wallpapers given are utter trash and are really ugly. I also never cared for redoing puzzles or HOS, so buying this CE was a huge bust for me considering also that the bonus content wasn't anything special. -1 star. In conclusion, this is definitely a 5 star game. It's unique, does something different no other game does, and the dialogue and storyline fit together really nicely to provide you with an authentic, immersive experience. I'm rating the CE 4 stars because the extras were very disappointing to me. I wish I had gotten the SE.
October 15, 2013
Highly Recommend
This game was a treat in many ways. It is a beautiful game- the graphics are sharp, colors vivid but not outlandish; the art was lovely. I loved that this game has an interactive map, great hint system- the game guides the player along. There were lots of mini-puzzles, which I love- my one complaint is that they were a bit on the easy side and mostly unoriginal. The storyline (as one other reviewer noted) does NOT follow the real story- and the fact that Sherlock Holmes is participating in magical activity is a bit hilarious- However, I still found the game to be a lot of fun, easy and relaxing play.
July 7, 2012
SOLID HOWLING GAME
Based on complete game, both casual and hard modes. Moderate length (a few hours). Gameplay: Straightforward. 7 descendants of Baskervilles need their coats of arms restored in order to be released from their eternal gloomy nonexistence. Along the way, you acquire super powers like materialization and perception (which is really illumination) so you?ll be breaking a lot of things and lighting a lot of dark places. Travel is between the past and present through portals in each Baskerville room and, once you have all the pieces for the coats of arms, you are given a chance to immediately go to the pictures to complete the coats of arms. Of course, this being about Sherlock Holmes, all the cases are solved. HOS were well defined and decently sized. The difficulty of the varied puzzles was easy to moderate. Graphics were clear. Music and sound was good. You are notified when all activities in a location have been exhausted. Of course, we know all the cases were solved, or this wouldn?t be a Sherlock Holmes game. Beginners will be able to play the game without pulling all their hair out.
November 5, 2013
I hate hidden object games
that being said, this one wasn't too bad. I enjoyed the mini games and puzzles. Love that the collector's edition allows me to go back in an play some of the puzzles. Storyline was fair, if somewhat fantastical; not too sure the real Sherlock Holmes would have bought into the storyline; he's too logical. Story/"movie" scenes are all still drawings, no real interaction. Still, it was a fun game; finished in just over 6 hours of playtime. liked it, but, if you don't like hidden object, it'll be a bit aggravating.
July 28, 2013
Bugged out...!
I never got to finish this game, and I tried and restarted it many times. It's wonderful. Everything a HOG should be. Clever like the Sherlock books, great atmosphere that draws you in, realistic dialogue, excellent art, great puzzles... but... I can't give it more than 3 stars because of that infamous bug :)
December 3, 2014
I feel like this totally missed the point of Sherlock Holmes
My main problem with this game is that the whole story is paranormal. I try to avoid games with paranormal elements. I thought I'd be OK with this one because the character of Sherlock Holmes is very logic/science based. He's supposed to expose the truth behind what others attribute to the paranormal. But that's not what happens here. The other thing I'll mention is that there are a lot of "collection" items. You find pieces of things that can't be used until you've found all the items. I don't mind that, but there were too many of them. If you're going to have multiple versions of this kind of thing, the items should be VERY different so that it's easy to tell them apart. But the collections in this game all seemed very similar.
June 25, 2014