Big Fish Games presents the
Sandlot Games Corp.

collection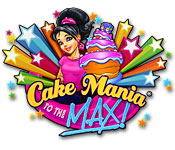 Flashback to the neon-soaked 80s and help Jill prepare for the biggest night of her young life in Cake Mania: To the Max, a fun Time Management game! Like most high school students in the Bakersfield High Class of '89, Jill doesn't have a clue as to what she wants to do with the rest of her life. As she fretfully contemplates various schools and career paths, her Grandpa presents her with the opportunity of a lifetime – design the centerpiece cake for her upcoming prom!
Learn More
Ride the rails to fun and adventure!
Granny is back and better than ever!
Help Risha launch her line!
Return to Bakersfield with Jill Evans!
Fortune is yours for the taking!

Dive into Heartwild Solitaire: Book Two!
The solitaire game that reveals a story!
Prove your worth to the king!
Sail the high seas in Ancient Greece!
Help Granny rescue her kittens.
Help Jill revitalize Main Street!
Restore harmony to a once idyllic land.
Bake those cakes as fast as you can.
An out-of-this-world adventure.
Travel through time to save a wedding.
Become an interior design diva.
Unleash the five elemental worlds.

Defend your fairy-tale world.
Granny's kitties need you again!
Help Granny in this winter extravaganza
Set sail for adventure in this super sequel.
Battle bandits in real-time.
Battle your way to a mighty empire!

Stake your claim in the wild West!
Discover a new outpost in the Wild West!
Take a wordy break on a Mediterranean beach.
Help Eve find her missing father!
Super Granny is back for more action!
Help Alex reunite her band, Iron Roses!
Discover the mysteries of Kuros!
Go on a journey with Tess!
Conquer the nation one cookie at a time!
Find dark secrets in Rasputin's Curse!