Big Fish Games presents the
Nickelodeon

collection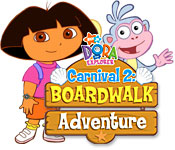 The sequel to the hit game Dora's Carnival Adventure! For ages 3 to 6. Go on a boardwalk adventure with Dora and friends! Play 10 different boardwalk-themed games and win tickets to earn prizes! Dora's Carnival 2 is suitable for all ages and helps build essential skills for young ones such as numbers and counting, hand-eye coordination, Spanish-language skills, and much more.
Learn More
Soak up five-star feeding fun!
A Greedy King has stolen the crystals that give color to the Crystal Kingdom!
Learning and playing meets fun!
SpongeBob is back for two times the fun!
Master SpongeBob Typing from A to Sea!
Learn Spanish, math, and music from Dora!

Shout "Bingo" with Dora and friends!
Help Otis find his barnyard friends!
Help Dora through a snow adventure!
A prehistoric mix of fun!
Virtually travel the world!
Explore the world of iCarly!
Help Swiper find a missing baby fox!
The battle depends on you!
Journey across the ocean floor.
Break the elephants` spell!
Spend a wonderful day with a puppy!
Spongey Adventure Under the Sea!

Explore the land of the dinosaurs!



Bubble bursting, SpongeBob style!

Match the beats of 80s hits!