Big Fish Games presents the
Nickelodeon

collection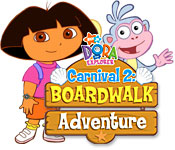 The sequel to the hit game Dora's Carnival Adventure! For ages 3 to 6. Go on a boardwalk adventure with Dora and friends! Play 10 different boardwalk-themed games and win tickets to earn prizes! Dora's Carnival 2 is suitable for all ages and helps build essential skills for young ones such as numbers and counting, hand-eye coordination, Spanish-language skills, and much more.
Learn More

SpongeBob is back for two times the fun!
Soak up five-star feeding fun!
Help Otis find his barnyard friends!
A Greedy King has stolen the crystals that give color to the Crystal Kingdom!
Journey across the ocean floor.
Master SpongeBob Typing from A to Sea!
Explore the land of the dinosaurs!
Break the elephants` spell!
A prehistoric mix of fun!
Learning and playing meets fun!
Help Swiper find a missing baby fox!
Bubble bursting, SpongeBob style!
Learn Spanish, math, and music from Dora!
Spongey Adventure Under the Sea!
Virtually travel the world!
Explore the world of iCarly!
Help Dora through a snow adventure!
Shout "Bingo" with Dora and friends!

Spend a wonderful day with a puppy!



The battle depends on you!

Match the beats of 80s hits!