Big Fish Games presents the
Educational Initiatives Group, Inc.

collection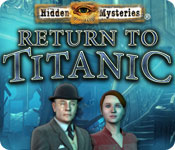 Solve Hidden Mysteries in Hidden Mysteries: Return to Titanic! After using a secret alias to board the Titanic, things go terribly wrong and you find yourself trapped among the wreckage. In order to earn freedom from your watery tomb you must appease your captor by re-writing history and freeing the spirits trapped aboard the 'unsinkable' luxury liner as well as discover why fate has chosen this destiny for you.
Learn More
Help Allie find some breaking news!

Discover secrets within a royal building.
Scour original battlefields for clues.
Investigate the rumors of witchcraft!
Go on board the infamous Titanic!

Get tips from our Strategy Guide!
Uncover the Forbidden City!
Find The Crown of Thorns!
Uncover the Truth of King Tut's Tomb!
Join Charlie in finding the Lost Island.
Compete to be Foodville`s top chef.
Run the craziest race of your life!
Where is the Truth Hidden?
Dive in to a mystery adventure.
Become a rock lord in the music biz.

Join Claire on a Hidden Mystery!
Go on an exciting pirate adventure!
Get tips from our Strategy Guide!