Big Fish Games presents the
Educational Initiatives Group, Inc.

collection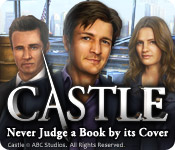 The dynamic duo of Richard Castle and Kate Beckett are at it again and they need your help. You will be tasked with tracking down a killer responsible for killing innocent victims that are oddly connected. However, this isn't any ordinary killer. The crime scenes are unique and dynamic, and designed to lead you off course. With each crime, things begin to hit closer to home. Eventually an eerie pattern becomes clear during the investigation. Will you be able to find the killer before there is another victim?
Learn More
Find The Crown of Thorns!
Uncover treasures in Rock and Roll's most famous home!

Discover secrets within a royal building.

Help Allie find some breaking news!
Scour original battlefields for clues.
Uncover the Forbidden City!
Compete to be Foodville`s top chef.
Become an American Picker!
Run the craziest race of your life!
Investigate the rumors of witchcraft!
Join Charlie in finding the Lost Island.
Join Claire on a Hidden Mystery!
Help Charles save lost souls!

Go on board the infamous Titanic!
Dive in to a mystery adventure.
Where is the Truth Hidden?
Get tips from our Strategy Guide!
Uncover the Truth of King Tut's Tomb!
Go on an exciting pirate adventure!
Get tips from our Strategy Guide!
Become a rock lord in the music biz.