Big Fish Games presents the
HipSoft LLC

collection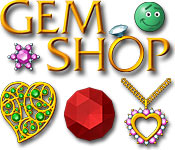 Match colorful gems and keep your jewelry customers happy! Sell gems and jewelry to your smiling consumers, but watch out! Keep them waiting too long and they'll start to grumble. You'll need to give them a marvelous treats to keep them happy (and get the sale)! Special tokens allow you to upgrade your shop with more jewelry and customer-appreciation treats. Remember: Happy customers spend big bucks, and keep your gem shop open for business!
Learn More
Find the clues to unlock each town's secret!
Build a booming town in the hit sequel.
Flip letters for word-making fun!

Help growing towns generate clean power!
A fun, phrase solving puzzler!
Flip houses for big profits!
Get ready to show what you know!
Get ready for some spine-tingling fun!
The Queen requires your building skills!
Protect the town from fire-breathing dragons!

Make a mint in the Euro housing market!


Scale the knowledge ladder today.
Get ready for some out-of-this-world fun!
Enthralling poker-style puzzle game.
Build the world your way... one neighborhood at a time!