Big Fish Games presents the
HipSoft LLC

collection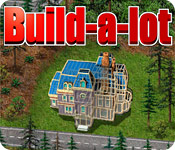 WINNER! #1 Action/Arcade Game of 2007
Become a real estate mogul and take over the housing market as you construct, upgrade and sell houses for huge profits! You can flip houses for quick cash or sit back and watch the rental income pile up. Travel to scenic towns and perform special tasks for the local mayors. Buy blue prints of new buildings to build bigger and better neighborhoods! Can you build an ice rink for the Olympics? A new cinema for the local movie star? Find out in the new strategy game, Build-a-lot!
Learn More
Find the clues to unlock each town's secret!
Flip letters for word-making fun!
Get ready for some spine-tingling fun!
Build a booming town in the hit sequel.
The Queen requires your building skills!
Help growing towns generate clean power!
A fun, phrase solving puzzler!
Protect the town from fire-breathing dragons!


Make a mint in the Euro housing market!


Match gems to keep your customers happy!
Get ready to show what you know!
Get ready for some out-of-this-world fun!
Enthralling poker-style puzzle game.
Scale the knowledge ladder today.
Build the world your way... one neighborhood at a time!