Hidden Expedition Games
Embark on wild adventures in the darkest jungles and deepest oceans as you play free Hidden Expedition Games. Try before you buy!
#1 Hit Game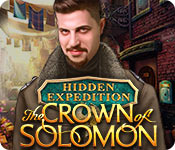 Hidden Expedition: The Crown of Solomon
The expedition continues... Track down the fragments of King Solomon's crown and foil a madman's plot in this exciting follow-up to the bestselling series!
More Hidden Expedition Games
KEY
= New Game

= Popular

= Collector's Edition