Tower Defense Games
Use strategy to shield your castle from invading armies as you play free Tower Defense Games. Try before you buy!
#1 Hit Game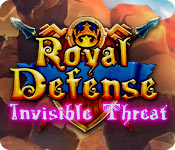 Royal Defense: Invisible Threat
Defend the fortress from trolls who have come to raid your lands! Build towers, earn money, collect crystals and upgrade your spells – the enemy shall not pass! Repel the aggressor!