Youda Games
You can do anything with Youda Games! Run a shop, go on adventures, solve mysteries, and much more as you play free Youda Games. Try before you buy!
#1 Hit Game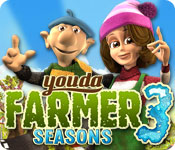 Youda Farmer 3: Seasons
After disaster strikes during a stormy night, you once again face the difficult task of rebuilding your village and farm!
More Youda Games
KEY
= New Game

= Popular

= Collector's Edition