Brain Teaser Games
Exercise your brain with riddles and puzzles as you play free Brain Teaser Games. Try before you buy!
#1 Hit Game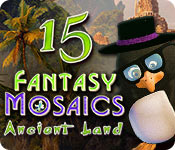 Fantasy Mosaics 15: Ancient Land
Join the penguin family on a journey to an ancient land and discover the mysteries of the penguin ancestors in the latest mosaic adventure!