Treasure Games
X marks the spot! Find buried pirate booty as you play fortune-filled free Treasure Games. Try before you buy!
#1 Hit Game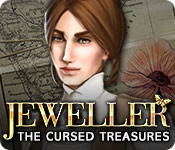 Jeweller: The Cursed Treasures
A jeweler is tasked with the restoration of some timeworn jewelry, but when he mysteriously disappears, rumors circulate that the pieces may be cursed.
KEY
= New Game

= Popular

= Collector's Edition