3 Cards to Dead Time
In late 1929, five people - including Jess Silloway's grandmother - mysteriously vanished and were never seen again. Now a ghostly figure has begun to haunt Jess's dreams. Use your powers of observation and deduction to unlock glimpses of events from the past, present and future, and then put the pieces together to discover what happened that fateful night eighty years ago, in 3 Cards to Dead Time! Experience this exciting Hidden Object game!
Spooky gameplay
Immersive atmosphere
Solve the 80 year old mystery!
Game System Requirements:
OS:

Windows XP/Vista/7/8

CPU:

1.8 GHz

RAM:

512 MB

DirectX:

9.0

Hard Drive:

214 MB
Game Manager System Requirements:
Browser:

Internet Explorer 7 or later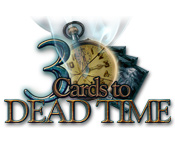 NEW299
The Big Fish Guarantee:
Quality tested and virus free.
No ads, no adware, no spyware.

Reviews at a Glance

3 Cards to Dead Time
0
out of
5 (
0
Reviews
Review
)
Customer Reviews
3 Cards to Dead Time
24
24
worth every penny! challenging and thought provoking!
This game was very thrilling and suspenseful. Great graphics and not your ordinary puzzles. There is even a part where if you choose one way the game continues and ends differently. With that said it has replay value. Held my interest and was hours and hours of fun.Lots of voice overs and cut scenes. I feel that the voice overs and cut scenes made the game more real.
April 12, 2012
3 Cards to Dead Time
The story was interesting, illustrated with still scenes and character voice-overs. Suggest playing 3 Cards to Midnight first for continuity of the storyline. Game is a combination of two genres - word and hidden object. Two modes are available - Relaxed and Challenge. On Challenge mode, all the word associations and word connections need to be found in order to continue. Puzzles are challenging with some unique twists. If you wish to skip the dialogue, hit the spacebar.
January 24, 2012
Great Sequel To 3 Cards To Midnight!
Again I don't consider this a hidden object game but this is a great adventure with "out of the box thinking". The mystery continues with Daniel, Sydney, Jess and her adoptive parents, could her mother be trying to contact her from beyond? Each hidden object scene gives you 9 mistakes total before having to start the scene over. In this edition you are to find items that "come in 3's" or "items on tarot cards" and some will have you finding items that are associated together such as chess pieces, kings, jacks and even a knight for example. When a puzzle piece appears you are given a mini game to complete and I must say they aren't exactly easy and most are lengthy. One mini game showed pictures of the characters and you had to take several amulets representing love, female, relatives etc.and place them over the pictures in order to find the connections. After that you needed to place those same amulets over personal items to deduce whom the items belonged and so forth (truth be told I ended up skipping this one) The only complaint I have is with the constant interruptions of video and voice overs telling bits and pieces of this very interesting saga, enjoy!
January 28, 2014
If you want a challenge and unique play - this is your game
I had such fun with this game. Completely unique HOS. Instead of saying what you are to find it gives you kind of category and you find objects that relate to that category. This game play was quite a challenge but very intriguing. The story line is unique as well although it seemed a little jumpy at times like it assumed you knew things already or accepted a given concept. If you liked the Forgotten Riddles games you like this (or if you haven't played them DO).
July 27, 2012
excellent!
Story line was great! I had great time and I am about to play 3 cards to Midnight! I love Big Fish Games:)
November 19, 2011
Not your usual hidden object adventure game
You will not like this game if you are looking for the usual hidden object type game. This is more of an adventure type game with theme-associated objects to be found in various scenes throughout the seven chapters and finale. It is very story driven requiring you to read or listen (depending on if you chose to have dialogue displayed) and to remember some specific characters and what they represent for use in the finale. There is an introduction that gives you the basics of gameplay which is helpful especially if you have not played the prequel "3 Cards to Midnight." It does help you better understand the storyline if you have played it but it is not necessary to enjoy this one. Pay particular attention to the directions you receive throughout the game as they will make completing mini games and chapters that much easier. Throughout the various chapters, you will travel with Jess to locations where cutscenes will set the stage and then there will usually be 3 or so screnes presented to find items that are associated to a particular theme. Most are fairly intuitive but some will require you to think about the theme to find the right item. Often you have to find items tied together such as skull and bones or ball and bat. It does require you to look at the all objects in the scene to determine if they fit. The graphics were a little dated making it hard to determine what some objects in the scene were but most could be identified. I think all of the objects you had to find for the theme were well defined. Fortunately, most screens only require you to find 3 or 4 items before breaking to the next cutscene. Be sure to look at the lower left of the screne for what object association you are to find before you start clicking on objects as there is a limited number of "misses" you are allowed before you have to repeat the chapter or scene. There are hints and you do earn more for every 100 points you acquire but they are usually only useable in the find the object screens. I found the story well written and interesting with multiple characters flowing in and out of the chapters. Tarot cards are used throughout the game as instruments of rememberances to move the story along and you do have to remember what cards are associated with certain characters by the end of the game for the finale. There is one point in the game #don't remember which chapter# where you have to make a decision that affects the outcome of the game so there are basically 2 endings so if you want to see both endings you will need to play through the game a second time choosing the other alternative. Sprinkled between chapters are mini games that end the chapter and are usually associated in some fashion with what you have just finished. The first time the dialogue balloon came up to announce the puzzle mini game it took a few seconds to actually associate the balloon with the puzzle action icon in the lower right corner of the scene. It is a highlighted jigsaw puzzle piece but the dialogue balloon was so large with the indicator point so dark that it was hard at first to see that it was pointing at the puzzle piece. Some mini games could not be played until all else in the chapter had been completed. There is a skip button for all of the mini games except the final one in the finale. I recommend this game for those wanting something different than the usual HO game.
July 12, 2014
Movie Studio Quality Story Production!
It's funny, the people giving negative reviews admit they are "not a fan of dialog". But if you are a fan of movies, books & EXCELLENT story lines, then this is Definitely the game for you. Also of note, many adventure/HOG games lack a good story line, as if the developers just threw a story together for the sake of putting out a game, this was the polar opposite, the story was so engaging, it drew you in to the point that you couldn't wait to return to see what would happen next! This is from the team who did the Tex Murphy series years ago, & even back then they pushed technology beyond the limits. It seems this game suffers from budget issues, but they still do an incredible job on the production end, especially on the scene acting, dialog & sound aspects. The gameplay was interestingly different, but got a little repetitive & ended abruptly. Again, as with the predecessor "3 Cards until Midnight", I kind of wish there were a little more location navigation, maybe some inventory to interact with & some changes along the way. But these guys shined at this in the past & I know with the right amount of backing they can continue to put out great games in the future. Overall, this was a really fun different HOG Story Book with a twist. Enjoy it, I did. Can't wait to see what's next!
August 5, 2012
Really Liked it!
This is a good game if you're looking for a challenge. The storyline is riviting and the mini games are at times very challenging.
December 2, 2012
It's in the cards and the cards are good.
This is the second in the series and just as good. HO range from easy to hard(need a clue hard). Game is fun for all skill levels. A good HO game with a little twist.
June 13, 2012
Excellent sequel that continues an interesting story
This game kept the good things from the original and added a few new things to improve game play and make things a little different. The storyline is a little hard to keep track of at times, but still a fun game with a compelling plot.
June 5, 2012