3 Cards to Dead Time
In late 1929, five people - including Jess Silloway's grandmother - mysteriously vanished and were never seen again. Now a ghostly figure has begun to haunt Jess's dreams. Use your powers of observation and deduction to unlock glimpses of events from the past, present and future, and then put the pieces together to discover what happened that fateful night eighty years ago, in 3 Cards to Dead Time! Experience this exciting Hidden Object game!
Spooky gameplay
Immersive atmosphere
Solve the 80 year old mystery!
Game System Requirements:
OS:

Windows XP/Vista/7/8

CPU:

1.8 GHz

RAM:

512 MB

DirectX:

9.0

Hard Drive:

214 MB
Game Manager System Requirements:
Browser:

Internet Explorer 7 or later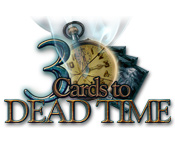 NEW299
The Big Fish Guarantee:
Quality tested and virus free.
No ads, no adware, no spyware.

Reviews at a Glance

3 Cards to Dead Time
0
out of
5 (
0
Reviews
Review
)
Customer Reviews
3 Cards to Dead Time
24
24
Want something different?
I just bought this on sale and what a bargain! It is a bit like an interactive book/movie, all about ghosthunters with lots of cutscenes that keep the story going! The HOS are very different from other games, since you're not supposed to find named or shaped things but things associated with a key word or associated with eachother! The graphics could be clearer I guess but it is still easy to find the objects and the blurryness adds to the ghostly feeling after a while. The voiceovers on the other hand are excellent! Want something out of the regular? Try this one!
September 3, 2014
Ive played better B.F. games
The concept of the game was very good. I liked the challenge of finding the hidden objects associated with a given clue or idea. Some of the puzzles were a bit vague others were quite reasonable. The game itself was a bit drawn out and slow moving. Too much dialogue which became rather boring and tedious even though there were clues and details which were to be used later in the game, that is if you did not get sick of all the reading. The last drawback was that if during the game all your hints and guesses were used up, you had to go right back to the begining of that paticular stanza and replay all the dialogue to try again so as to continue.
December 15, 2011
Has the Negatives of its Predecessor
Being the 3 Cards to Midnight sequel, I thought some improvements would have been made, but it carries many of the same cons as its predecessor. The story can be rather strange if you don't play Midnight first, however, if you're in it for the word game aspect, that doesn't matter. Similar to Midnight, you're finding the other half of a compound word or phrase that connects that scene with Jess' memories. Some of them can be tricky, so I'd keep the guide open on your browser for quick access because if you run out of free guesses, you'll have to start the scene over again. If you're stumped, pay close attention to objects that stand out versus blending in with their surroundings (i.e. looking like they are graphically part of the background) because they're most likely your items. Say the item with the word before or after it and see if anything sounds remotely like a word. The game pulls you out of the scene when each of the key words is completed for a cutscene so be prepared. I would recommend this if you've played Midnight and enjoyed it or just like the challenge of a word game mixed with a hidden object game. It was definitely a challenge!
September 29, 2012
i have given this game a low score. i didn't like it
i really didn't like this game at all. i finished it because i am too stubborn not to, but i didn't enjoy it at all. the hints had to be earned and i never lost all of them so i don't know if they recharge by themselves or not. don't care, either. the voice overs were horrible and the cut scenes weren't very good either. graphics in general weren't that good. i would try the demo before buying.
July 14, 2013
Too much
The storyline could be a great one, however, I did not care for the way the hidden objects were done , nor did I care for the way when you found a few items it went to a cut scene. I loved three cards to midnight, but this one didn't hold my interest.
June 15, 2012
It didn't hold up to the story line
I played the demo and stoped less than half way through. The graphics where good. The voice overs where ok. It didn't catch my attention and hold it. It became boring after a while. I do recomend checking out the demo.
February 19, 2012
The bad outweighs the good.
This hidden object game is original in that it gives you categories and you find things in the picture that belong to that category so that is pretty fun. On the other hand it is frustrating because if you click on the wrong things too many times you have to re find the objects you already found, all over again. Also they have cut scenes where you can hear the characters talk but it just shows pictures of them.. weird.. Then there are cut scenes you can't skip through and they are slow. Also, if you have to leave for some reason in the middle of a game it will not save where you left off, it will take you to the beginning of whatever level you started on. Not worth the hassle to me.
April 4, 2012
If you like story over play you will love this game
I liked the searches and thought the game was well put together when you actually get to play. The writers are so taken with the story line you have to listen and go through page after page after page of just story. And the skip will only let you skip a very small portion before presenting you yet another cut scene for story. I was disappointed and feel I wasted my money because of the excessive story . the bad part I usually like story games.
September 15, 2013
Way Too Much Talking
Takes up too much talking, would like more hidden object time.
October 30, 2012
I Wish I Understood What's Going On!
This is based on the demo. This is a different kind of game. It's really like an animated movie with a few scenes thrown in where you have to find things that match with other things. Once you select one of the 3 modes you can't change it during the game. Also it doesn't save your game where you stop. You must start a scene over unless you have reached the end and it says "Done". There is so much dialogue and people involved in this movie that I was totally lost from the beginning. I hoped playing the first game in this series would answer some questions but I didn't get very far into it either. I'm still confused. I think it's about a 30-year old girl with some type of psychic ability who was adopted by some really rich people (she spends some time on a huge yacht owned by them), has a boyfriend (who has asked her to marry him but she won't commit) and someone is trying to kill her. To add to the mix are her biological parents, who may or may not be dead and her mother also has the same psychic ability along with her mother's sister who also has the same ability. There are other characters but I'm at a loss as to who they really are and what their reason is for being in the story. There is this one guy named Sydney whose voice is really creepy. For some reason I didn't trust him. The HOS are definitely differently but not my cup of tea. The hints are limited as is the miss clicks. When using a hint it is sometimes very hard to see where the hint is. I used all 3 hints trying to find one object! I also used all the miss clicks so it started the whole scene over. Luckily the hints and misses were restored. Of the 3 puzzles I played, I skipped the first one because I didn't comprehend what I was supposed to do. I don't know the Zodiac signs so I couldn't play the second. The 3rd was putting together a broken record which was very easy. There is a skip button. You can't complete a scene until you play the puzzle. I play games to relax. This is not one for relaxing so I will pass even though it is a Daily Deal. You should play the demo before purchasing as this is not your run-of-the mill game. I know there are many that will love this complex offering, but I'm not one of them.
September 3, 2014